Convert Access Database to Web Application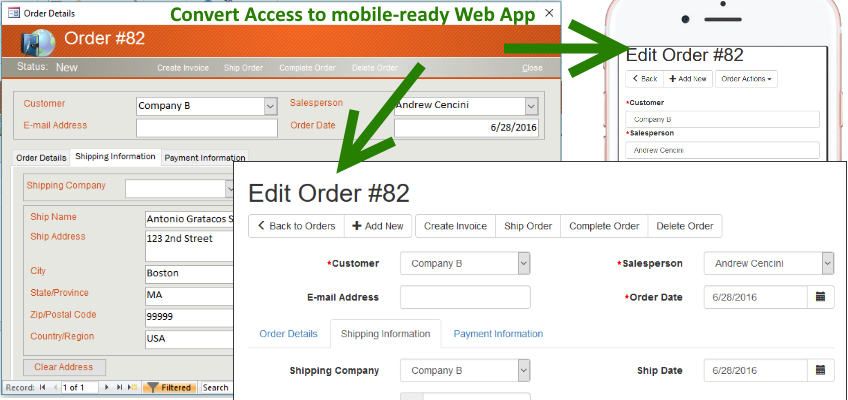 Do you have an MS Access Database and are exploring options to convert it to a web-based application?
Some general assumptions about MS Access:
it's suitable for a relatively small number of concurrent users
limited to local networks
slow performance on larger data sets
lack of scalability
locking issues with multiple users
There are strong trends towards web-based applications rather than platform-specific applications like MS Access.
What are the benefits of web based applications?
Instant availability. Almost any device with a browser can run it.
Multi-user. All users can work with application in parallel, easily collaborate.
Much simpler deployment and support. Update server code and all clients will automatically use latest version.
So, what can we do with legacy MS Access databases?
Are there any ways to convert or migrate old desktop database to web-based application?
The answer is "possible, but not easy". Currently there are no automatic converters that can do that for you.
Generally, the steps to convert MS Access database to web-based are:
import/migrate data from Access tables into MS SQL Server (or MySQL or any other DBMS).
recreate Forms
recreate Reports
rewrite custom VB code
Each step might not be straight forward. Data might need to be restructured, Forms and Reports complicated, VB code - cumbersome.
But we can do that and we know how to do that right. You will receive:
SQL Server backed database (with option for MySQL)
ASP.NET based website
Mobile-enabled screens (you'll be able to work with forms on smartphones, tables or desktops)
Strong single sign-in user authentication
Easy user management for unlimited number of users
All your Forms
All your Reports
You will receive full source code of the website for in-house or your own cloud installation
We can even merge several Access databases into one single Web Application.
Call us at 773 544 5848 or use the contact form