Why Convert Your MS Access to Web?
The Advantages of Web-Based Applications Over Access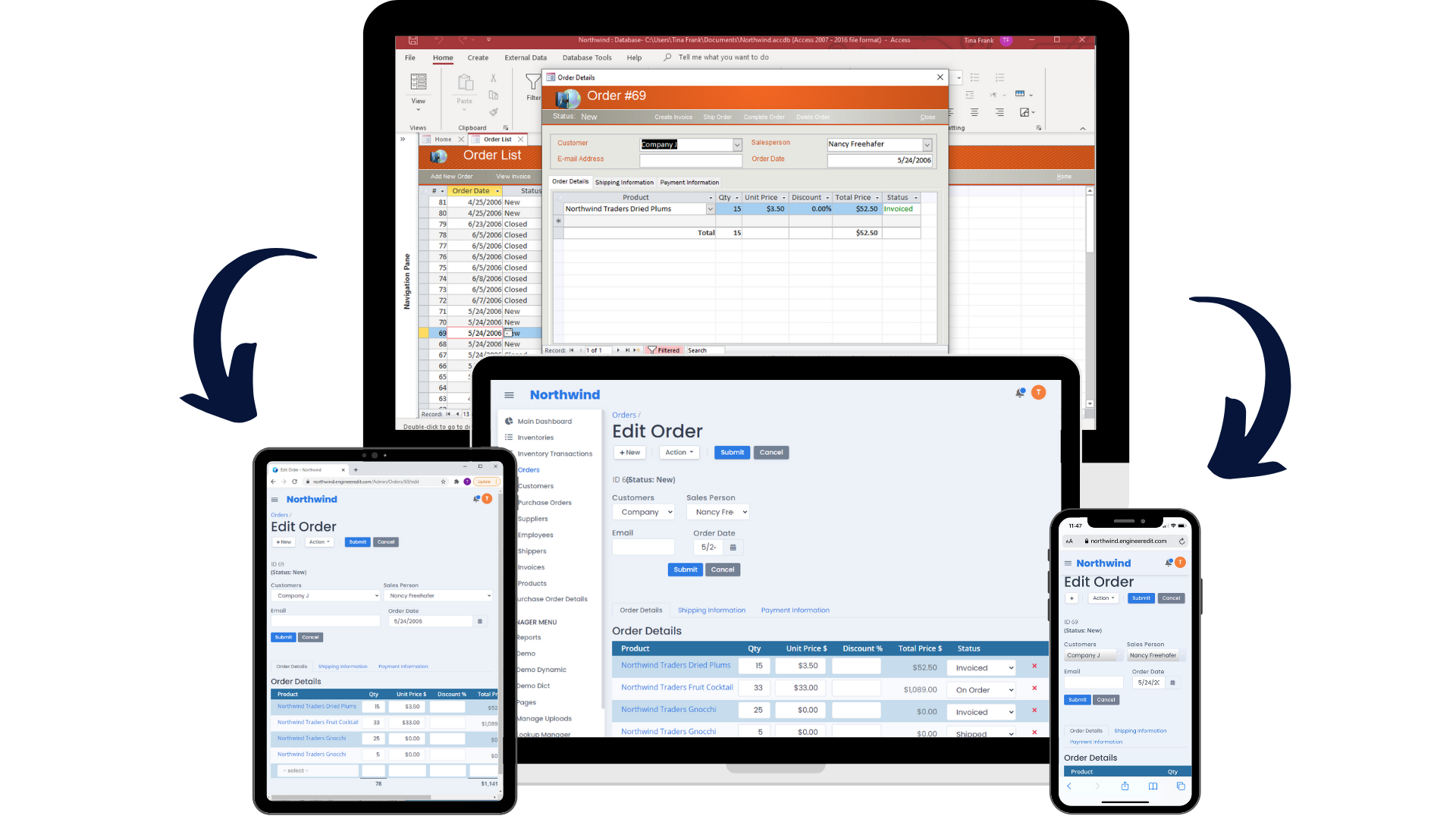 Better Performance & Easy to Scale
Web-based apps can have a virtually unlimited number of concurrent users without locking or freezing
Offers easier collaboration between users
Users can work from home or remote offices
The application is not limited to the local network (and there is no need for VPN)
Web apps are quicker with large data sets due to properly designed DB structures & optimized queries
With cloud storage like S3 it's possible to store zettabytes of data without worrying about disk space
Straightforward User Interface & Simple Usability
Web-based apps offer a consistent, standard approach to the interface, allowing for easier adoption by users
With a browser-based interface, there is no need to learn app-specific skills
A responsive-first approach allows users to work on devices with different screen sizes - desktops, tablets, smartphones
A modern, fresh-looking interactive interface based on Bootstrap 4/5 instead of an old outdated Access UI
User interface can be customized for your business, by user type, and by the individual user.
Improved Security - Unlike "home made" Access applications, we build with a security first approach
All passwords are hashed/encrypted in DB and users can be required to use strong passwords
Includes integrated prevention of brute force attacks
Includes integrated prevention of common security issues like XSS, CSRF and SQL-injections
Option to add 2-factor authentication
If hosted on Amazon, we always turn on encrypted storage for web and DB instances
All source code is stored in secure Bit Bucket repository with enabled 2-factor authentication
Different user levels can be created to limit access level by user
More Reliable
Standard stack of reliable components used: Windows - IIS - ASP.NET - SQL Server
It is based on open-source framework with structured, straightforward development, which minimizes developer mistakes
Source code is kept in git repository - easier to review, track for changes, and apply bugfixes
Visual Studio is used for development, which is much more convenient and productive than Access's VB editor
There are no "hidden" and hard to track or fix Access issues or bugs
Cloud hosting like Amazon is very reliable, regular automatic backups are available.
Multi-zone web and DB servers can be configured for 99.99% or more availability
Easier to Maintain
Based on VB.NET language, which is very similar to Access's VB
Based on standard ASP.NET so it is easy to find or switch developers for support
Based on open-source framework which means there are no vendor lock issues
Easier Deployment
Instant availability
No need to install any software on client PCs
Works from standard browsers like Chrome, Firefox, Safari, or Edge
When updates or bugfixes are completed the live site can be updated to the latest version immediately, with no action required on the user's side
No need for RDC
No need for VPN
Web Hosting Details - Final solution can be hosted on any cloud provider that supports windows
(Large companies: Azure, Google Cloud, Amazon or Smaller: Linode or Godaddy)
We have more experience with Amazon:
Quickest to configure & easier for maintenance
Very flexible if you need to scale
Very reliable and cheaper than most other providers (if properly configured/reserved)
Contact Us and we'll help you with your MS Access database.